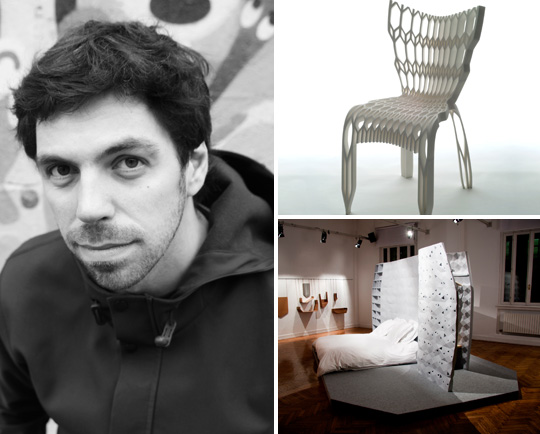 French designer François Brument set up the In-Flexions studio in 2006 as a research unit developing digital applications for creating objects, spaces, services and interactive pieces. He is involved in researching new approaches of design and fabrication, in particular by exploring the origins and organizing protocols of forms in constant mutation, using code and parametric design as main skills.
Since 2005, Brument's work has been shown in France and abroad and also figures in the collections of the Fonds national d'art contemporain, the Pompidou Centre, the musée des Arts décoratifs, the SF Moma, the Centre canadien d'architecture and VIA.
He graduated in 2004 from the ENSCI-Les Ateliers, Paris, with a diploma project entitled In-Formation, paradigme digital. He is teaching in France at ENSCI-Les Ateliers, Paris, and at ESADSE, Saint-Etienne, as projects director in digital design fields.
François Brument, Photo by Maria Spera
Chair#71, Paris, 2007, Photo by Véronique Huyghe
Habitat Imprimé, Paris, 2013, Photo by In-Flexions