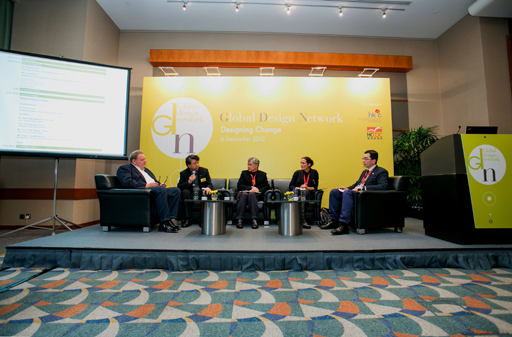 Global Design Network (GDN) was inaugurated in 2005 as an annual event held concurrently to the Business of Design Week (BODW).
In the past seven years, leaders of more than 30 influential design organisations from around the world were invited to this roundtable event and contribute valuable ideas. Having laid this groundwork, HKDC is creating a network of member-associations that share the GDN's mission to sustaining communication and facilitating future partnership among leading design organisations.
Objectives of GDN are to foster mutual understanding and collaboration between Asia and the rest of the world through design; to facilitate communication and future collaboration between designers of different nationalities, and formation of exchange missions; and to share information about major commercial, cultural or infrastructural projects in which business opportunities for the design sector could be identified across borders.
With the multitude of international participation in the network, GDN currently encompasses 39 leading design associations in Asia, Europe and the Americas.
Global Design Network (GDN) 2013 Luncheon
Co-organisers: Hong Kong Trade Development Council , Hong Kong Design Centre
Global Design Network (GDN) 2013 - Roundtable and Online Intelligence Platform
Organiser: Hong Kong Federation of Design Associations
Collaborating organisation: Hong Kong Design Centre